Trinh Nu Cave is situated on the east of the islet range named Bo Hon, Halong Bay. It is 3 kilometers southeast from Sung Sot Cave.
Trinh Nu means virgin. Legend has it that this cave was associated with a tragical romance of a couple.
Once upon a time, there were a couple who are in love but their marriage was disapproved by their parents because the man was to poor.
Therefore, the poor man was determined to sail far to the bay with the hope of catching enough fish to earn money and marry her.
When he was far from home, the girl was arranged to get married with another man.
Desparated and longing for true love, she secretly planned to escape and sail to find her long-life love.
Under  the overcast sky, sudden gusts of rains with waves blown upwards, the girl was drifted to this cave.
Fatedly, the man was refuging the storm in the cave nearby. All of a sudden they heard each other.
They tried to find each other but they couldn't know where the other is in the rocky terrain and increasingly harsh storm roaring angrily.
The call they made for each other faded out and swallowed in the storm. Days and nights had passed, sad and cold.
They died while still being apart, in eternal agony.
She died and turned into rock. Inside the cave until nowaday still exists the poor-girl-shaped rock lying on the ground with long hair streaming down, facing the bay looking for her lover in vain.
The cave where the man stayed later was named Trong Cave (Male Cave). It was just 700m from Trinh Nu Cave.
At the entrance of Trong Cave, there is still the rock in the shape of the man facing Trinh Nu Cave.
If you visit the two caves, you can still see the remnants of that fated storm: the broken rocks scattered on the ground, gusts of wind roaring over the cliff and the white bubles roaring at the entrances of the caves.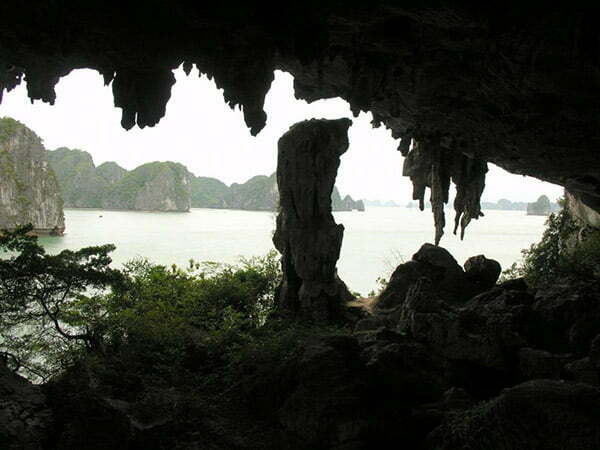 Trinh Nu Cave, and also Trong Cave, is not only a place for romance seeker but also a worthy destination for archeology lovers. In 2000, archeologists discovers the vestiges of inhabitants during Halong Culture (3,000 – 4,000 years ago) including ashe layers, animal bones and ceramic fragments.
Espeically, in 2010, they also found the ancient ceramic potteries and jars in the area in front of Trinh Nu Cave with typical decorative patterns.
Among those, fragments of bowls and plates were idenified to be under the Tran Dynasty (13th – 14th century), some Le dynasty (16th – 17th century) and many under Chinese feudal dynasties. Therefore, it was believed that Trinh Nu Cave once was a part of Van Don port systems in ancient time, yet quite a small and infrequent unit.
Trinh Nu cave is indeed a majestic paradise on the dreaming beauty of Halong Bay. If you have a chance to visit here, don't miss out on traveling to the cave.
For further information about Halong bay cruise tours, feel free to contact us or visit our website. Please like and share the article with others if you find it useful. Thank you.
Nowadays, Trinh Nu Cave and Trong Cave are included in the cruise tour route number 2 in Halong Bay, besides Sung Sot Cave – Titop Island – Me Cung Cave – Dong Tien Lake.