2 Day 1 Night Hanoi – Halong Package
Vietnam with its beautiful and unique capital Hanoi and the must-visit Halong Bay will never disappoint you!
You want to finally escape your daily routine and spend some time somewhere on a beautiful corner of the globe and you pick Vietnam. Your trip can be a serendipity with amazing experience or you will become an unfortunate because of missing out the best parts of Vietnam, depending on how well you know yourself to choose the best fit package. Planning a trip can be more of a stress so in order to help you, here's the best suggestion for those who want to have a memorable 2-day trip for visiting Hanoi and Halong.
Day 1: Get to know Hanoi City – the heart of Vietnam
On the first day you'll land at Hanoi Airport. Private pick-up service will be exclusively provided to take you to the hotel in the Old Quarter – the heart of Hanoi.
Spend the rest of the day to wander around to get to know the city. The love for a city is more than usual initiated by treading its streets, wandering between the buildings and strolling aimlessly. You can definitely explore Hanoi on your own or request a travel buddy for a street food tour or join a group tour.
Long Bien Bridge | Cre: Quang Nguyen
Tran Quoc Pagoda
The fruit lady | Cre: Nguyen Huynh Mai
You will stay overnight at the hotel in Hanoi.
Day 2: Explore Halong Bay – Lan Ha Bay – Cat Ba Island
With the unique itinerary Halong Bay – Lan Ha Bay – Hoa Cuong Cave, your day tour into the bays will add up so much different and satisfying experience to your time staying in Vietnam
Halong, Vietnam | Cre: Serentiy Cruises
ITINERARY
7:00 – 7:30 Pick-up at Hanoi to travel to Halong
Serenity Cruises provide free pick-up service at your hotels in the Old Quarter. It takes only 2.5 hours to travel from Hanoi to Halong, excluding 15-minute break at the stop-over.
10:15 Check-in at Serenity Cruises
You will complete check-in at slot 26 – Tuan Chau Harbor before boarding Serenity Cruises.
While Serenity Cruises sails into Halong Bay, you will have chance to enjoy Halong Bay's majestic beauty with our welcoming drink.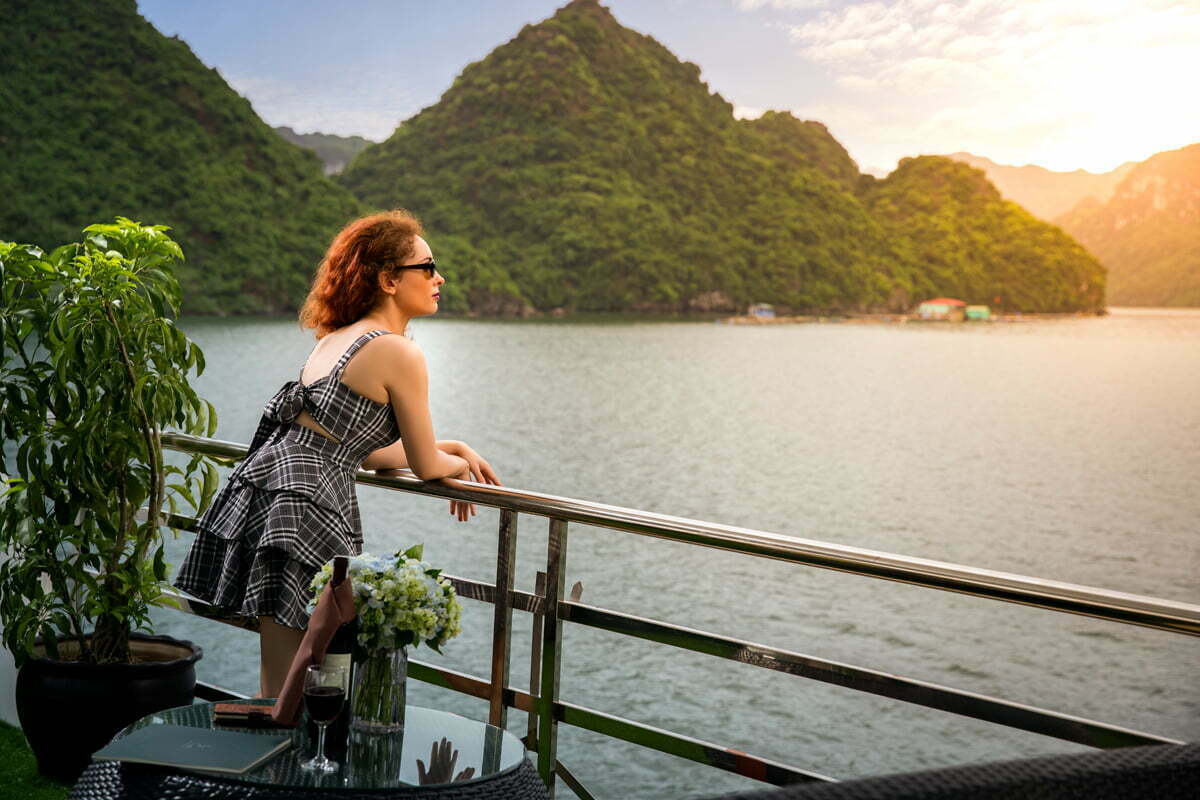 11:00 Drop anchor at Gia Luan port to visit Hoa Cuong Cave
Sailing past limestone karsts covered in lush green foliage, Serenity Cruises bring you to Gia Luan Port. We will drop anchor and go explore Hoa Cuong Cave.
On the ceiling of the cave, there are many stalactites with the shapes as the great sculptures of nature. It is also in this cave where archaeologists found the traces of ancient primates from thousands years ago.
12:00 Come back to Serenity Cruises and savor Deluxe Lunch on cruise
Fabulous lunch will be served on board while you are surrounded by the secluded Lan Ha Bay dotted with beautiful limestone karsts.
13:15 Go kayaking in Bright Dark Cave or Frog Pond area
Kayaking is probably a familiar activity to foreigners but some people are not accustomed to it. It is actually a kind of sport that helps we build better muscles when still enjoy the comfort brought by natural and peaceful surrounding.
14:00 Go swimming and jumping at Duck Rock (Hòn Con Vịt)
Duck Rock (Hòn Con Vịt) in Hoa Cuong fishing village is more well-known thanks to travelers who actually set foot to this land.
The image of an adorable duck on the water where you go swimming or jumping from the cruise will be a nice experience to remember.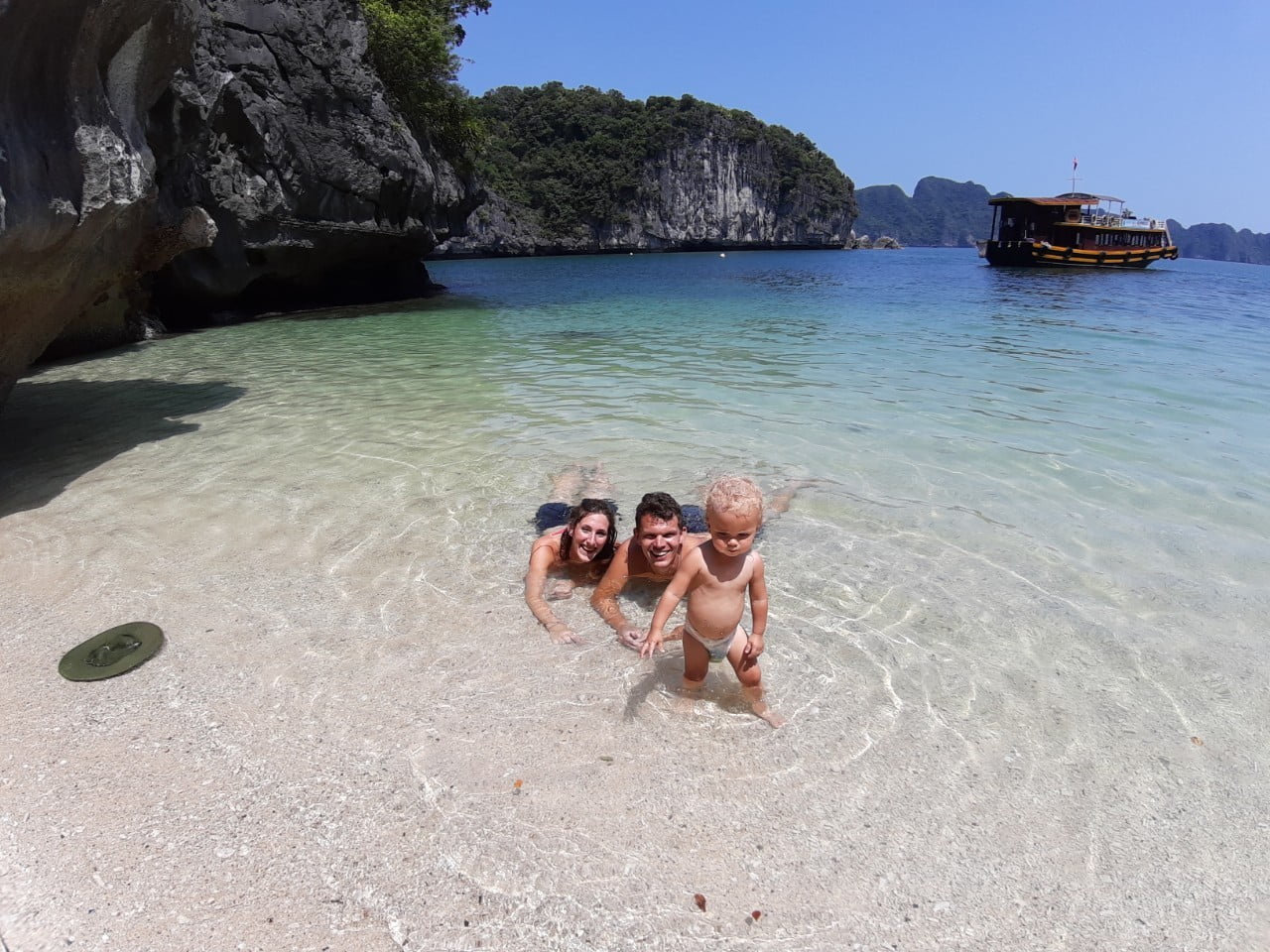 15:30 Travel back to Tuan Chau Wharf
16:45 Get on the bus to go back to Hanoi
19:00 Finish your journey and say farewell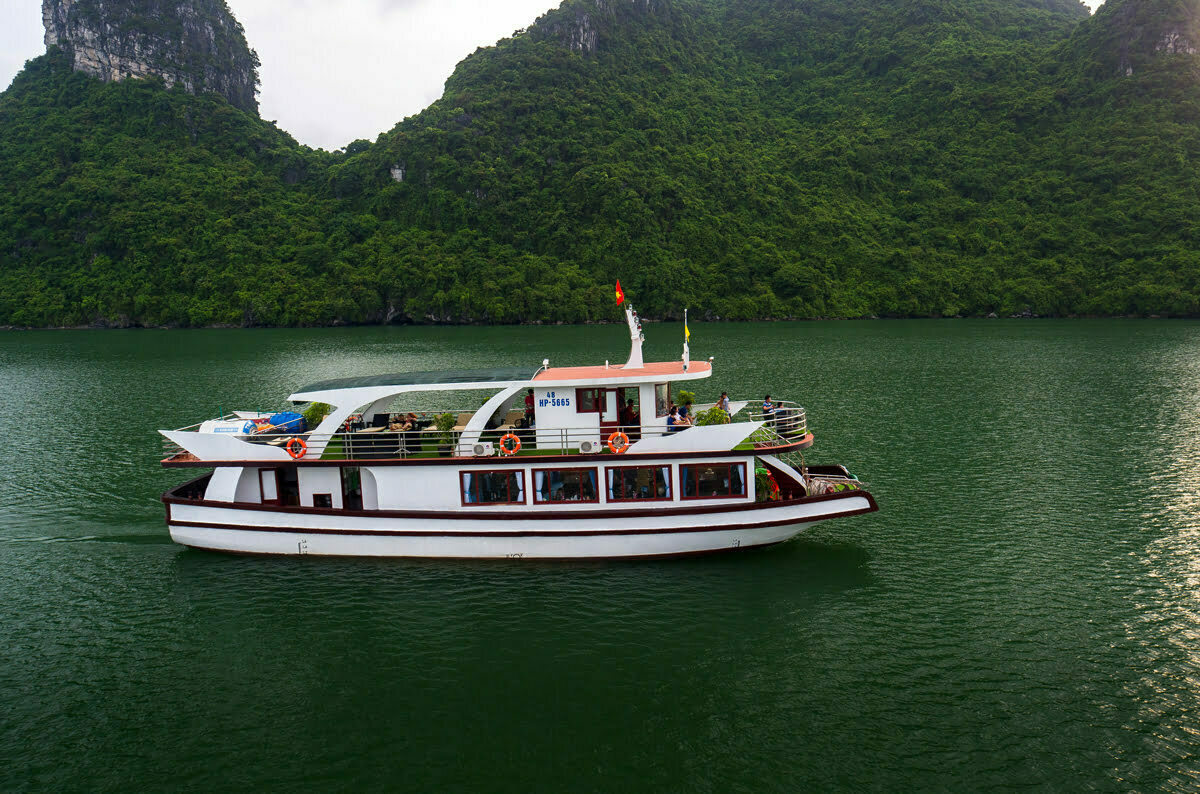 Inclusions:
Two-way transportation with modern bus on the shortest route (Highway 5B)
6 hours doing tour on cruise
Lunch on board, afternoon tea, coffee, fruits, welcoming drink
Entrance tickets to sightseeing spots
Kayaking, swimming
Hoa Cuong Cave visit
Vietnamese/English speaking tour guide accompanying you from start to finish
Bottle of water
Exclusions:
Personal expenses, tip for staffs, drinks at bar
10% VAT for VAT bills
HIGHLIGHTS
Taking Highway 5B to minimize travelling time from Hanoi to Halong down to only 2.5 hours
6 hours on Halong Bay – Lan Ha Bay
Unique cuisine experience
Fruits and afternoon tea
Kayaking and swimming in Lan Ha Bay
Visiting Hoa Cuong Cave
See other suggestions by Chris Tran – an experienced local tour guide if you have more time for exploration:
3 Day 2 Night Hanoi – Halong Package
3 Day 2 Night Hanoi – Halong – Hanoi Package
4 Day 3 Night Hanoi – Halong Package
4 Day 3 Night Hanoi – Halong – Hanoi Package
4 Day 3 Night Hanoi – Halong – Cat Ba Package