Thien Cung / Heaven Grotto in Halong
Heaven Grotto (Động Thiên Cung in Vietnamese) is one of the biggest grottos in Halong. It is located in Dau Go Island and is 4km from Bai Chay port.
Heaven Grotto – untouched for thousands of years, was discovered by chance in 1993 by fishermen when they tried to find a place to hide during the storm. The discovery was relatively late due to the narrow entrance to the cave and the luxuriant foliage covering almost the whole area.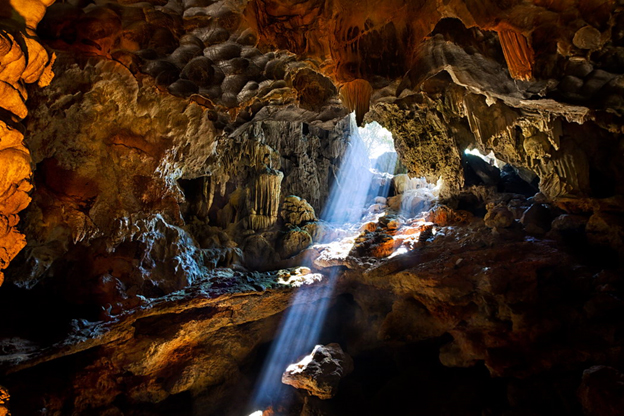 What makes Thien Cung Grotto so special is thought-provoking shaped stalactite.
The legend has it that Dragon Prince fell in love with "Nang May" (Ms. Cloud). They held a lavish wedding party inside the grotto for 7 days and nights long.
All kinds of animals and all genies took part in to share happiness with the couple. The celebration was that fun and bustling like on the heaven.
Entering Thien Cung Grotto, you can easily spot out the party sceneries in the setting of stalactites and stalagmites inside.
On the east wall of the grotto, there is a grandiose and imposing picture with characters of tales.
When approved by the authority, Thien Cung Grotto was transformed into the dance of lights, just like how legend goes. Then it was officially opened for public as a tourist destination.
At the end of the grotto, you can find an artificial stream that run to 3 clear ponds. Those ponds add up to the mysterial beauty of the grotto.
This destination is usually included in a 4 or 6-hour-tour on Halong Bay. Besides Heaven Grotto, travelers also visit Dark & Bright Cave, Lu Huong Peak, Kim Quy Grotto, Dong Tien Lake, Co Grotto, Bo Nau Grotto, Me Cung Cave, Cua Van Village, Luon Cave, Ba Ham Lake, Dau Go Cave, Titop Island,Sung Sot Cave.